Dogged
From Infinity Wiki
Marker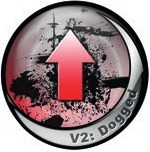 Activation
The trooper entered the Unconscious state and his player announced he would activate the Special Skill Dogged, whether in an Active or Reactive Turn.
Effects
The Unconscious state of troopers using the Special Skill Dogged has the following special rules:
Instead of placing an Unconscious Marker next to the trooper, place a V2 Marker.
To activate the state, the player must announce the trooper uses Dogged when he falls Unconscious.
Dogged temporarily alters the Unconscious state of the user, removing the Null Label.
This means that Dogged allows the trooper to ignore the effects of the Unconscious state, treating it like the Normal state instead, but only for the rest of that Player Turn.
At the end of the Turn, the trooper in the Dogged state automatically falls Dead and is removed from play.
If the trooper in this state loses one or more further points of his Wounds Attribute, he enters the Dead state directly and is removed from play.
Once activated, this state prevents the trooper from being healed by Special Skills or Equipment such as Doctor, AutoMediKit, MediKit, Regeneration...).
This state does not affect Automatic Special Skills or Automatic Equipment.
Cancellation
The Dogged state is automatically cancelled when the trooper loses another point from his Wounds or the Player Turn ends. In either case, he falls Dead and is removed from play.
FAQ
N3 Frequently Asked Question
FAQ Version: 1.2
Q: How do V: Dogged and G: Remote Presence interact with each other?
A: When a trooper that has both skills enters the Unconscious state for first time, the player controlling it has to choose which to use.

If the player chooses to activate V: Dogged, the trooper will ignore the effects of the Unconscious state and enter the Dogged state. That means that the trooper will enter the Dead state at the end of the Turn, or if the trooper suffers a new wound before the Turn ends.

If the player chooses to use G: Remote Presence, the trooper will suffer the effects of the Unconscious state, but will gain a second Unconscious level before entering the Dead state and it could be repaired meanwhile.

Related Pages: Dogged, G: Remote Presence, No Wound Incapacitation, Unconscious, V: Dogged, V: No Wound Incapacitation
N3 Frequently Asked Question
FAQ Version: 1.4, Sep 2018
Q: How does Shock Special Ammunition affect troops whose troop profile has a Wounds Attribute greater than 1 and who have the Special Skills V: Dogged or V: No Wound Incapacitation?
A: It will have the same effect as Normal Ammunition in this situation. The Important! Box text should read:

A target of Shock Special Ammunition that enters the Dead state directly, bypassing the Unconscious state, cannot activate the Spawn-Embryo, V: Dogged, or V: No Wound Incapacitation states.

Related Pages: Dogged, No Wound Incapacitation, Shock, Spawn-Embryo